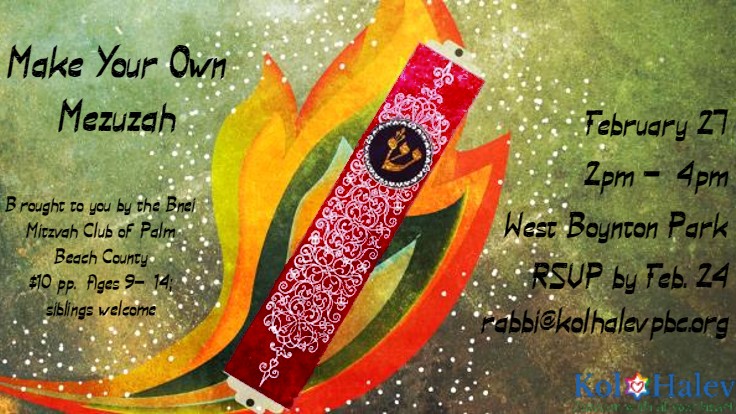 07 Feb

Art in the Park

Please join us February 27th at West Boynton Park for an afternoon of art, food, and making new friends!

Kol HaLev is happy to announce the formation of our "Bar and Bat Mitzvah Club of palm Beach County," a group of kids around bar mitzvah age (ages 9-14 & sibings) who will do art, go on mitzvah missions, and have fun together!

On February 27th, we will gather from 2-4 at West Boynton park to learn about the mezuzah, and to make a personalized one.  Games and food too.  Tickets at link.waveapps.com/4hnkyu-w5suaz

We welcome children of all backgrounds and affiliations.  Kol haLev is a non-denominational, welcoming communitythat seeks to infuse joy and meaning into Jewish life.

For more information on Bar/Bat Mitzvah with Kol HaLev, please visit out page at https://kolhalevpbc.org/bar-bat-mitzvah-holidays/.  Kol HaLev helps families design meaningful bar/Bat Mitzvah ceremonies which reflect their values, and in which children learn what is meaningful to them.  We do not believe in 1-size-fits-all Judaism; we will work with your child to identify his/her strengths and passions, and develop a course of study and service that makes for a meaningful experience.