09 Mar

Mitzvah Club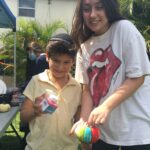 What is Mitzvah Club?
Does your child love to be doing stuff.  Moving, working with their hands, going interesting places?
Mitzvah Club is all about the action!
Mitzvah Club is a place for kids to do Jewish stuff together–mitzvah missions (to interesting community places), art projects (like the mezuzah making workshop many of you joined), and the occasional "just for fun" event like a pool party or movie night.  It is a chance to be with other Jewish children, to do a mitzvah together.  And, of course, learn about their heritage in the process.
What are we planning?
Art projects, like making your own kiddush cup and Shabbat challah cover
Mitzvah Missions, like helping out at a food pantry or preparing school backpacks for needy children
Fun social events, like pool parties and movie nights
We hope you can join us!
And if you don't have children, please consider supporting us by becoming a "builder."
Upcoming Events:
Art In the Park
Mon. March 14th, 9-12; $10 pp
RSVP by today!
9:00 Mishloach Manot-PBSD
10:00 Morikami Park-Lake Biwa Pavilion
Mitzvah Mission, Games & Purim Crafts
Ticket Link
Movie Night: "Hidden Figures"
Tues, March 15th, 8:00; ages 9-14 & siblings
rsvp rabbi@kolhalevpbc.org
Megillah Performance & Persian Dinner
Join us for a raucous rendition of the megillah (in English), performed live by community members!
Thursday, March 17th, 5:00 [note the change in time!]
RSVP by March 11
$25 pp/$18 Builders/$10 kids;
Ticket links:  Builders  Adults   Kids